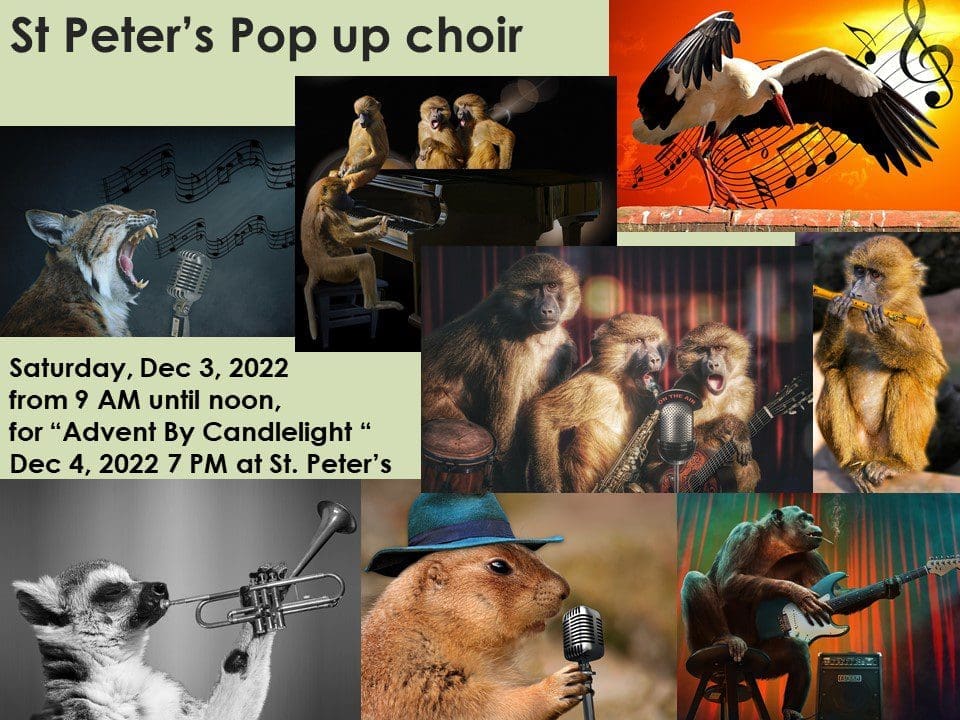 Special Pop-Up Choir Dec 3, 2022
St. Peter's introduces a Pop Up Choir  December 3, 2022
For those who like to sing but don't have the time to commit to a weekly schedule, we are offering two pop up choirs this fall.  Bring your enthusiasm and a pencil  there is Christmas music, along with a vocal trax of your singing part so that you can review and practice at home for a month.  Practice will be, December 3rd from 9 until noon to record the songs so that they can be used for our Christmas Eve services.
The following evening, on Sunday, December 4th, we will hold a live concert at 7:00 entitled "Advent By Candlelight."  It will be a composite of songs and readings that will get the congregation in the mood for Christmas and take them through the entire Christmas story, from the annunciation to the birth.  It will be an event you won't want to miss.
Put us on your calendar and invite your friends.  It's a great way to meet people and worship the Lord together.  For those who participate in the Christmas pop up, it will make the season come alive for you.
Contact the church office at office@saintpeters.ca or 403-932-3345 for details.